RWBY Chibi is an animated web series and spin-off of RWBY produced by Rooster Teeth Productions. The show features stylized "chibi" versions of RWBY characters and focuses on lighthearted comedy rather than plot and drama.
Summary
Each episode of RWBY Chibi is around 4 minutes long and consists of several lighthearted self-contained comedy shorts (or segments) with little to no overarching storyline, though there are multiple recurring themes and running gags throughout the series. Individual shorts range from a few seconds to a few minutes in length.
RWBY Chibi is non-canon to the continuity of the main show.[1] According to Gray Haddock, it is meant to be a spin-off series for younger audiences after RWBY became too mature.[2]
Release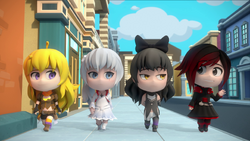 The show was first announced as part of Rooster Teeth's 13th Anniversary celebrations on April 1st, 2016.[3] Sneak peeks of the show were shown as extra content at RWBY Tugg screenings on April 27th, 2016.[4]
The first episode premiered on May 7th, 2016 as part of Rooster Teeth's "Summer of Animation", alongside Camp Camp and Red vs. Blue Season 14.[5] Like RWBY, episodes are released weekly, airing on Saturdays for Rooster Teeth sponsors and the following day for registered users of the site. Episodes are also uploaded to YouTube the week following the sponsor release.
RWBY Chibi ran weekly until the start of RWBY Volume 4,[4] which premiered on October 22nd, 2016 (totalling 24 episodes).
On January 23rd, 2017 a new season of RWBY Chibi was announced, set to be released for May 2017.[6]
On May 3rd, 2017, Rooster Teeth released a trailer and revealed the Season 2 premiere would be on May 13th, 2017.[7]
An exclusive trailer of Season 2 was posted on Entertainment Weekly on May 10th, 2017. [8]
On January 16th, 2018, it was confirmed that the third season of RWBY Chibi would start airing on January 27th, 2018.[9] Just before the eighth episode on March 17th, director Paula Decanini confirmed that the show would enter a midseason break until June.[10]
Rooster Teeth later revealed that the series would return on June 30th, 2018. [11]
Development
Original ideas for shorts stemmed from collaborative pitching sessions, where various Rooster Teeth staff members were invited to share ideas and jokes that could be further developed into shorts.[12] Some shorts were also based directly on fan-comics, with the original artists given writing and story credits on the final episode.[13] Shorts each have their own titles and are worked on by individual teams.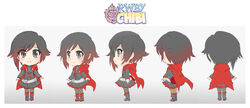 The character designs for the show were created with help from Hajime "Mojojoj" Nakamura, a Japanese fan artist well known in the RWBY fan community for his fanart. He was contacted by Rooster Teeth and the designs he provided were later used as references for creating the 3D models used in the show itself.
The show is animated in 3D in the program Autodesk Maya, unlike previous volumes of RWBY, which were animated in Smith Micro's Poser.[14] Animators were also given much more creative freedom than on the main show, as shorts are less closely storyboarded, allowing them to get their own intuitive feel for the comedic timing of the shorts.[12] Unlike the main series, RWBY Chibi does not use motion capture.
The animation team working on the spin-off show is separate to the team that was working on Volume 4 of RWBY.[15] Animation for the first season of RWBY Chibi wrapped on September 16th, 2016.[16]
Soundtrack
Jeff Williams and Alex Abraham, who compose the music for the main series, also worked on the music for RWBY Chibi. The music includes remixes and rearrangements of songs from the RWBY soundtrack in a variety of styles, including 8-bit versions, as well as new compositions.[17] Casey Lee Williams contributed vocals.
Alex Abraham had uploaded some tracks from the soundtrack to his SoundCloud for free public streaming.
"Mirror Mirror" (Ice Queen Remix)
"From Shadows" (Little Black Bow Remix)
"Beacon Theme" (Carnival Remix)
"I Burn" (PleaseDon'tSueUs Remix)
"Ren is 'It'"
"Boop" (Pancakes Remix)
"Little Red Riding Hood"
"I May Fall" (Unauthorized Snuggles Remix)
"This Will Be The Day" (Friendship Is Semblance Remix)
"Junior Detectives — Upgrade Time"
"Pillow Fight"
"Red Like Roses — Lazy Little Butt Remix"
"Cinder ________?"
"The Sitcom"
Characters
Season 1
Season 2
Season 3
Unknown Season
The characters of RWBY Chibi are noted as having slightly different personas to their counterparts from RWBY. For example, Miles Luna says that chibi Jaune is more "angry and feminine" than his canon incarnation, while chibi Ruby is "kind of a little shit".[18] Michael Jones has described chibi Sun as "dumb as a brick" while his canon counterpart is positive and encouraging.[19] There are more objective differences as well, the most noticeable being Neo constantly "speaking" in signs materialized from nowhere, a trait seen nowhere in canon; also, unlike in the series proper, Pyrrha makes no attempt to hide her Semblance, nor Blake her Faunus ears, despite habitually wearing the bow she wore to hide them in the first three volumes.
Most characters have one or more unique screen wipes that transition between scenes in an episode. Each wipe matches the character's personality and theme. For example, Ren's takes the shape of a yin-yang symbol while Zwei's wipe takes the shape of dog bones.
Episodes
Season 1
Chapter
Title
Original Air Date
Run Time
External Link
1
"Ruby Makes Cookies"

"Ruby Makes Cookies"
"Party Games"
"Ninjas of Love"
"Weiss and Yang Training"

May 7th, 2016
3:37
Ruby Makes Cookies
Ruby Makes Cookies
2
"Cat Burglar"

"Cat Burglar"
"Ice Skating"
"Jump Rope"
"Yarn"
"Blake Vs. Zwei"

May 14th, 2016
3:10
Cat Burglar
Cat Burglar
3
"Reloading"

"Jaune Calls Weiss"
"Reloading"
"Blake Tag"
"Blake vs. Zwei - Part 2"

May 21st, 2016
3:11
Reloading
Reloading
4
"Fighting Game"

"Fighting Game"
"Ice Sculpture"
"Present for Blake"
"Marshmallows"

May 28th, 2016
3:03
Fighting Game
Fighting Game
5
"Sissy Fight"

"Costume Party"
"Ear Cleaning"
"Sissy Fight"
"Shadow People"

June 4th, 2016
3:37
Sissy Fight
Sissy Fight
6
"The Vacuum"

"The Vacuum"
"Cape Trubs"
"Book Swap"
"The Fourth Wall"

June 11th, 2016
3:20
The Vacuum
The Vacuum
7
"Prank Wars"

"Jaune Experiments"
"Prank Wars"
"Arcade Games"

June 18th, 2016
3:11
Prank Wars
Prank Wars
8
"Magnetic Personality"

"Pickle Surprise"
"Tubby Tummy"
"Magnetic Personality"
"Going Down"

June 25th, 2016
3:42
Magnetic Personality
Magnetic Personality
9
"Ren Plays Tag"

"Weiss Studying"
"Ren Plays Tag"


July 2nd, 2016
3:39
Ren Plays Tag
Ren Plays Tag
10
"Love Triangle"

"Love Triangle"
"Zwei Painting"
"Makeover"


July 9th, 2016
4:21
Love Triangle
Love Triangle
11
"Nurse Ruby"

"Ren Makes Pancakes"
"Jaune ASMR"
"Nurse Ruby"

July 16th, 2016
5:09
Nurse Ruby
Nurse Ruby
12
"Little Red Riding Hood"

"Littering"
"Little Red Riding Hood"

July 23rd, 2016
6:03
Little Red Riding Hood
Little Red Riding Hood
13
"Spin the Bottle"

"Spin the Bottle"
"Blake vs Zwei Pt 3"
"Nora Workout"

July 30th, 2016
3:27
Spin the Bottle
Spin the Bottle
14
"Big Vacation"

"Tired Blake"
"Big Vacation"
"Junior Detectives: Bad Cop"

August 6th, 2016
4:31
Big Vacation
Big Vacation
15
"Neptune's Phobia"

"Bad Boy Jaune"
"Neptune's Phobia"
"Nora's Gift"

August 13th, 2016
4:38
Neptune's Phobia
Neptune's Phobia
16
"Bike Race"

"Bike Race"
"Stand Up Yang"
"Jaune Ennui"


August 20th, 2016
4:23
Bike Race
Bike Race
17
"Save Nora!"

"Bathroom Break"
"Save Nora!"
"Upgrade Time"


August 27th, 2016
4:48
Save Nora!
Save Nora!
18
"Evil Plans"

"The Return of the Pickles"
"Evil Plans"
"Butler of Cakes"


September 3rd, 2016
5:21
Evil Plans
Evil Plans
19
"Pillow Fight"

"Life of Zwei"
"Pillow Fight"


September 10th, 2016
3:34
Pillow Fight
Pillow Fight
20
"Roman's Revenge"

"Double Trouble"
"Zwei vs. Beowolf"
"Roman's Revenge"

September 17th, 2016
4:36
Roman's Revenge
Roman's Revenge
21
"Cinder Who?"

"Friend Forever"
"Letter to Winter"
"Checkmate"
"Cinder Who?"

September 24th, 2016
3:32
Cinder Who?
Cinder Who?
22
"Security Woes"

"Game Night"
"Security Woes"
"Floor is Lava"

October 1st, 2016
4:10
Security Woes
Security Woes
23
"A Slip Through Time and Space"

"The Great Dust Robbery"
"Dance Practice"
"A Slip Through Time and Space"

October 8th, 2016
4:50
A Slip Through Time and Space
A Slip Through Time and Space
24
"The One with a Laugh Track"

"The One with a Laugh Track"

October 15th, 2016
5:54
The One with a Laugh Track
The One with a Laugh Track
Season 2
Chapter
Title
Original Air Date
Run Time
External Link
25
"Director Ozpin"

"Director Ozpin"
"UFO"
"Dodgeball"

May 13th, 2017
3:46
Director Ozpin
Director Ozpin
26
"Geist Buster"

"Book Lovers"
"Shiny Badge"
"Geist Buster"

May 20th, 2017
3:08
Geist Buster
Geist Buster
27
"Magic Show"

"Magic Show"
"Find a Penny"
"Kick-Off"

May 27th, 2017
3:58
Magic Show
Magic Show
28
"Dad Jokes"

"Neptune's Game"
"Snaps"
"Dad Jokes"

June 3rd, 2017
2:58
Dad Jokes
Dad Jokes
29
"Girls Rock!"

"Fearless Hero"
"Whistle"
"Girls Rock"

June 10th, 2017
3:50
Girls Rock!
Girls Rock!
30
"Super Besties"

"Super Besties"
"Rat in the Hat"
"Meet the Author"

June 17th, 2017
4:00
Super Besties
Super Besties
31
"Must Be Nice"

"Late for Class"
"Must Be Nice"
"Evil Class"

June 24th, 2017
4:34
Must Be Nice
Must Be Nice
32
"Boy Band"

"Pet Party"
"Tai Dye"
"Boy Band"

July 1st, 2017
3:08
Boy Band
Boy Band
33
"Coming Home to Roost"

"Coming Home to Roost"
"Read the Sign"
"Life Coach"

July 8th, 2017
3:00
Coming Home to Roost
Coming Home to Roost
34
"Cool Dad"

"Cool Uncle"
"Clean Behind the Ears"
"Cool Dad"

July 15th, 2017
4:21
Cool Dad
Cool Dad
35
"Movie Night"

"Movie Night"
"Wore It Best"

July 22nd, 2017
3:00
Movie Night
Movie Night
36
"Evil Genius"

"Dangerous Quests"
"Tune Up"
"Evil Genius"


July 29th, 2017
4:32
Evil Genius
Evil Genius
37
"Parent Teacher Conference"

"Parent Teacher Conference"
"Blake's Beauty Vlog"
"Surprise Parties"


August 5th, 2017
4:11
Parent Teacher Conference
Parent Teacher Conference
38
"Cannonball!"

"Cannonball"
"Winter is Coming"
"Inner Lives of Beowolves"


August 12th, 2017
4:55
Cannonball!
Cannonball!
39
"Nurse Nora"

"Sister Stuff"
"Nurse Nora"


August 19th, 2017
3:21
Nurse Nora
Nurse Nora
40
"Neptune Noir"

"Neptune Noir"
"Man Up With Port"
"Tai's Tech Vlog"


August 25th, 2017
4:13
Neptune Noir
Neptune Noir
41
"The Mystery Bunch"

"Rolling Thunder"
"Computer Virus"
"The Mystery Bunch"


September 2nd, 2017
3:43
The Mystery Bunch
The Mystery Bunch
42
"The Fixer"

"The Fixer"
"Jr. She-Tectives"


September 9th, 2017
3:28
The Fixer
The Fixer
43
"Steals and Wheels"

"Yang Boops"
"Steals and Wheels"
"Fugitive"


September 16th, 2017
4:08
Steals and Wheels
Steals and Wheels
44
"Monsters of Rock"

"The Ride Along"
"The Great Escape"
"Monsters of Rock"


September 23th, 2017
2:48
Monsters of Rock
Monsters of Rock
45
"Happy BirthdayWeen"

"The Geist Pumpkin"
"Devotion Potion"
"Happy BirthdayWeen"


September 30th, 2017
3:02
Happy BirthdayWeen
Happy BirthdayWeen
46
"Battle of the Bands"
October 7th, 2017
3:57
Battle of the Bands
Battle of the Bands
47
"A Slip Through Time and Space Pt. 2"

"A Slip Through Time and Space, Pt. 2"


November 27th, 2017
3:40
A Slip Through Time and Space Pt. 2
A Slip Through Time and Space Pt. 2
48
"Nondescript Holiday Spectacular"

"Nondescript Holiday Spectacular"


December 14th, 2017
3:34
Nondescript Holiday Spectacular
Nondescript Holiday Spectacular
Season 3
Chapter
Title
Original Air Date
Run Time
External Link
49
"Road Trip"

"Road Trip"
"Manly Weapons"


January 27th, 2018
3:45
Road Trip
Road Trip
50
"Evil Interview"

"Evil Interview"
"Love Daddy"


February 3rd, 2018
3:32
Evil Interview
Evil Interview
51
"Mortal Frenemies"

"One Shot One Pill"
"Mortal Frenemies"


February 10th, 2018
3:34
Mortal Frenemies
Mortal Frenemies
52
"Grimm Passengers"

"Grimm Passengers"
"Punished"


February 17th, 2018
3:36
Grimm Passengers
Grimm Passengers
53
"Girls' Night Out"

"Mercury's Girl"
"Girls' Night Out"


February 24th, 2018
3:21
Girls' Night Out
Girls' Night Out
54
"Teenage Faunus Ninja Catgirl"

"Teenage Faunus Ninja Catgirl"
"The Protege"


March 3rd, 2018
3:23
Teenage Faunus Ninja Catgirl
Teenage Faunus Ninja Catgirl
55
"Mysterious Red Button"

"Books Fix Everything"
"Mysterious Red Button"


March 10th, 2018
3:33
Mysterious Red Button
Mysterious Red Button
56
"Kids vs Adults vs Pups"

"Kids vs Adults vs Pups"
"Fireflies"


March 17th, 2018
3:50
Kids vs Adults vs Pups
Kids vs Adults vs Pups
57
"Tea Party"

"Tea Party"
"Leisurely Stroll of Doom"

June 30th, 2018
4:11
Tea Party
Tea Party
58
"Prank War"

"Sailor Jaune"
"Prank War"

July 7th, 2018
4:05
Prank War
Prank War
59
"In The Clutches of Evil"

"In The Clutches of Evil"
"Put it in Reverse"

July 14th, 2018
4:09
In The Clutches of Evil
In The Clutches of Evil
60
"JNPR Dreams"

"QrowCrow Part 1"
"JNPR Dreams"
"QrowCrow Part 2"

July 21st, 2018
3:41
JNPR Dreams
JNPR Dreams
61
"Cousins of Chaos"

"Don't Pet the Grimm"
"Cousins of Chaos"

July 28th, 2018
3:53
Cousins of Chaos
Cousins of Chaos
62
"Nefarious Dreams"

"Nefarious Dreams"
"Tai's Escape"

August 4th, 2018
3:43
Nefarious Dreams
Nefarious Dreams
63
"Play With Penny"

"Play With Penny"
"Life Hacks"
"Animal Cruelty"

August 11th, 2018
3:48
Play With Penny
Play With Penny
64
"RWBY Dreams"

"Tough Customer"
"RWBY Dreams"

August 18th, 2018
4:03
RWBY Dreams
RWBY Dreams
Inconsistencies
Main article: Inconsistencies/RWBY Chibi
References